About the project. . .
A number of quilt artists around the country were paired with female chefs as part of a project sponsored by Girls Incorporated of Alameda County, an affiliate of the national Girls Incorporated (Click back to return). The artists and chefs were to get acquainted, learn about each other's work, and to collaborate on a quilt that reflected something of this encounter.
The resulting quilts are being made over the course of a year and will then tour the USA in an exhibit sponsored by the Smithsonian Institution SITES Program (Click Back to Return).
This page reflects an alternate mode of communication established between chef and artist to monitor the collaboration and to view its result from a different perspective.

Left to right, Kathleen and Susan consider the collaboration, New Orleans Nov 1997
March 1998 "Fishstew" (progress) April 1998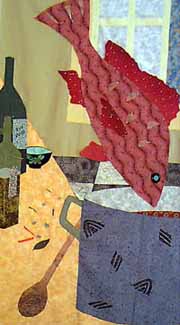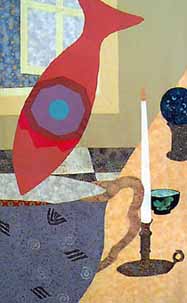 "Fishstew" (details, work-in-progress) ©Sharp 1998
| | |
| --- | --- |
| In talking with Susan, I learned that for her a favorite fish visually was the red snapper, a fish that one could also actually eat. On the other hand, a favored fish for me was an icon, myth laden and cosmic-eyed, which one could only imagine. Wondering about this observation was the starting point for this quilt which addresses a chef's and an artist's approach to making Fishstew. | |
Studio Fishstew-in-progress 3/98